Obstetrics and Maternity Care
At the Family Birthing Center, we transform men and women into parents with a dedicated labor and delivery staff that offers individualized care and respect for an exciting, healthy event in a woman's life. Mothers, fathers and babies can room together, and skin-to-skin contact immediately after birth, exclusive breastfeeding and delayed bathing are recognized as essential standards of care.
Confidence is grown in new parents through support and encouragement during their infant's early hours of care. This reinforcement inspires trust in their abilities as new parents and better prepares them for the journey home.
Our Family Birthing Center offers family-centered pregnancy care, featuring in-office ultrasound and fetal monitoring, 3D ultrasound, individualized education and birth plans. We also manage high-risk pregnancies in cooperation with maternal-fetal specialists, ensuring the best possible care for both mother and baby.
Pre-Admission:
Prepare for the arrival of your little one with our Pre-Admission services. Streamline the process and ensure a smooth transition into the hospital, allowing you to focus on the excitement of the upcoming delivery.
Preparation for Delivery:
Navigate the final stages of pregnancy with confidence through our Preparation for Delivery services. Our expert team provides guidance, resources, and personalized support, ensuring you are well-prepared for the birthing experience.
Delivery:
Experience the joy of childbirth in a supportive and comfortable environment. Our experienced team of healthcare professionals is dedicated to ensuring a safe and memorable delivery for you and your family.
Your Stay:
Enjoy a nurturing and comfortable environment during your delivery and stay with a private labor and delivery room and a warm and welcoming atmosphere for you and your newborn.
Your Healthcare Team:
There are many staff members by your side throughout your maternity journey. Our skilled healthcare team is here to provide expert care, guidance and support to be sure you feel prepared for the exciting changes to come.
Breastfeeding Services:
Embrace the benefits of breastfeeding with our dedicated lactation consultant who will be available to assist and educate, promoting a positive breastfeeding experience for both mother and baby.
After Delivery:
Ensure your baby's safety with our Car Seat Safety checks and resources to be sure you have what you need to create a safe sleep environment for your baby. 
Pediatrics:
Continue the journey of care with our Pediatrics services, offering comprehensive healthcare for infants and children. Trust our experienced pediatricians to support your child's health and development.
Schedule Your Appointment or Tour:
Call (419) 352-8427 to schedule an appointment for our Obstetrics and Maternity Care services. For a firsthand look at our Family Birthing Center, call (419) 354-8932 today to schedule a tour.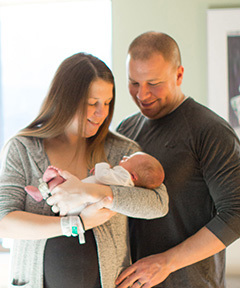 "My husband and I had a wonderful experience in the Wood County Hospital Family Birthing Center. From the time we arrived to the time we left we were impressed with the care Cooper and I received." - Sarah Lemke