Obstetrics and Maternity Care
You can depend on our caring staff for the personal attention and expertise you expect when you're expecting. 
Family-centered pregnancy care
In-office ultrasound and fetal monitoring
3D ultrasound
Individualized education and birth plans
Management of high risk pregnancies in cooperation with maternal-fetal specialists
Call (419) 352-8427 to schedule an appointment.
Family Birthing Center
At the Family Birthing Center, we transform men and women into parents with a dedicated labor and delivery staff that offer individualized care and respect for an exciting, healthy event in a woman's life. 
 Mothers, fathers, and babies can room together and skin-to-skin contact immediately after birth, exclusive breastfeeding, and delayed bathing are recognized as essential standards of care. 
Confidence is grown in new parents through support and encouragement during the early hours of care for their infant. This reinforcement inspires trust in their abilities as a new parent, and better prepares them for the journey home.
Call 419-354-8932 today to schedule a tour.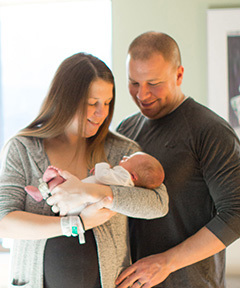 "My husband and I had a wonderful experience in the Wood County Hospital Family Birthing Center. From the time we arrived to the time we left we were impressed with the care Cooper and I received." - Sarah Lemke