Nutrition Intervention and Therapy (Counseling) Services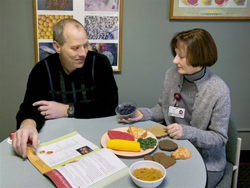 Nutrition Intervention (Inpatients)
Clinical dietitians at Wood County Hospital assess and monitor the nutritional status of inpatients of all ages. Physicians may consult the dietitian for nutrition intervention parental (TPN or PPN) feeding and tube feeding recommendations as well as nutrition education for inpatients of all ages. These services are included as part of the hospital general fee.
Nutrition Therapy (Counseling)
Nutrition Services at Wood County Hospital offers a variety of Outpatient Medical Nutrition Therapy sessions for individuals and groups. Outpatient Medical Nutrition Therapy offerings include the following health issues: diabetes, pre-diabetes, insulin resistance, weight loss (obesity), high cholesterol (hyperlipidemia), hypertension, food allergies, gluten sensitivity, childhood nutrition issues and others.
Outpatient Medical Nutrition Therapy referrals can be made by your physician so that these services may be billed to your insurance company.  This does not mean that every insurance company covers for medical nutrition therapy. We recommend that you contact your insurance provider to find out if this service is covered. Please note that you can also see an outpatient dietitian without a referral. You will then be billed as a self-pay patient.  Below are guidelines for scheduling:
To schedule your appointment, call

419-354-8863

and press option #1 when prompted.

As a courtesy, we will verify your insurance coverage, prior to your appointment.

Your appointment will be with one of our outpatient dietitians. The appointment will last approximately 1 to 1½ hours. The dietitian may recommend follow-up visits. These will be scheduled individually at that time.

Please record what you eat and drink (including amounts and time) for three days.

Please bring your referral and your food record to the appointment.

Please arrive 15 minutes early for your appointment. Come to the front of the hospital and check in at the Welcome Center inside the front entrance. After registering, the dietitian will escort you to the office.
Fee Structure: $50.00 per 15 minutes for a one-on-one meeting. $28.00 per patient per 30 minutes for groups of two or more. 
All of the dietitians at Wood County Hospital are registered dietitians by the Commission on Dietetic Registration and licensed by the State of Ohio. Our dietitians also see patients in the Center for Weight Loss Surgery, The Maurer Family Cancer Care Center (MFCCC) and at US Renal Care on the hospital campus. Services in the Center for Weight Loss Surgery and the MFCCC are billed the same as Outpatient Medical Nutrition Therapy. Nutrition Services provided at US Renal Care are included in the general fee for dialysis. We also provide medical nutrition therapy to patients in the Cardiac and Pulmonary Rehabilitation Centers as a part of our program in those services.