Weight Loss Surgery
Are you struggling with a weight problem? If you're considering weight loss surgery, begin right here at Wood County Hospital. We offer 30 years of experience, minimally invasive procedures and comprehensive patient education to ensure your success.
Weight Loss Surgery Options
Bariatric Surgery
Gastric Bypass Surgery
Gastric Sleeve
Lap Band Surgery


Depend on our weight loss expertise:
Helped over 2,000 patients achieve permanent weight loss
The most weight loss surgical options in NW Ohio
Accredited Bariatric Surgery Center of Excellence meets the highest standard of qualifications and credentialing
Attend our seminar to see if you're a weight loss surgery candidate.
Our Mission
Our mission is to help patients achieve a healthier and better quality of life by providing comprehensive obesity management in a personal, friendly and caring environment that promotes successful behaviors, facilitates a smooth and safe surgical process, and optimizes success for each individual's weight loss journey.
Want to learn more? Click here to request an information packet.
Accreditation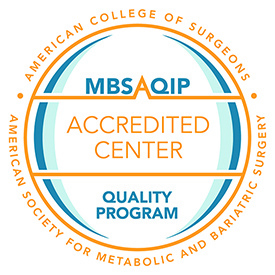 The Center for Weight Loss Surgery at Wood County Hospital has been named a Bariatric Surgery Center of Excellence by the American Society for Metabolic and Bariatric Surgery.
This means that we meet the highest standard of qualifications and credentialing for bariatric surgery.