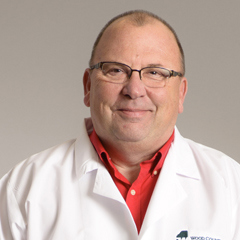 Specialities: Family Medicine
Accepting New Patients

Video
Falcon Health Center Second Floor
838 E. Wooster St.
Bowling Green, OHio 43402
Map and Directions
(419) 728-0601
Dr. Fondessy is a native of Northwest Ohio and graduated from the Medical College of Toledo . He completed residency training at the W. W. Knight Family Practice Program in Toledo, Ohio and most recently came from the Fostoria Community Medical Hospital where he practiced family medicine and focused on quality management. Dr. Fondessy is Family Board Certified and his clinical interests include family practice, intensive care unit, surgery and outpatient medicine. Dr. Fondessy's services include: General health care for patients of all ages.
---
Practice Locations
Falcon Health Center Second Floor
838 E. Wooster St.
Bowling Green, OHio 43402
Map and Directions
(419) 728-0601
---
About Dr. Terrence Fondessy
Clinical Interests
Family Practice, General Surgery and Outpatient Medicine
Professional Memberships
AAFP, OSMA, Seneca County Board of Health
Certifications
Board Certified in Family Practice, July 1986; Recertified 2008 Ohio State Medical Board; July 1984-Present DEA Certificate
---
Patient Information
Accepting New Patients
Yes