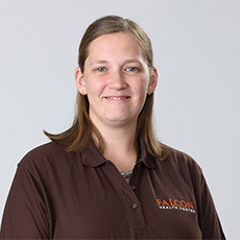 Specialities: Family Medicine
Falcon Health Center
838 E. Wooster
Bowling Green, OH 43402
Map and Directions
419-372-2271
Office Hours
Hours:

Monday - Friday 8:00 a.m. - 9:00 p.m.
Saturday/Sunday: 9:00 a.m. - 5:00 p.m.

Phlebotomy Hours at Falcon Health Center
Monday - Friday 7 AM - 5 PM

Pharmacy Hours
Mon. - Fri. 8AM - 4:30PM

Radiology Hours
Mon. - Fri. 8AM - 5PM

Closed Holidays.

Emergency Room Hours:
If you are in need of care and the health center is closed, please contact
the Wood County Hospital at 950 W. Wooster St., Bowling Green, OH 43402
419-354-8900
Joy Barnes, MD, is a family practice physician at Falcon Health Center. She is married to David Barnes, M.D., a family practice physician who practices at Wood County Medical Associates. They are the parents of four boys.
---
Practice Locations
Falcon Health Center
838 E. Wooster
Bowling Green, OH 43402
Map and Directions
419-372-2271
Office Hours
Hours:

Monday - Friday 8:00 a.m. - 9:00 p.m.
Saturday/Sunday: 9:00 a.m. - 5:00 p.m.

Phlebotomy Hours at Falcon Health Center
Monday - Friday 7 AM - 5 PM

Pharmacy Hours
Mon. - Fri. 8AM - 4:30PM

Radiology Hours
Mon. - Fri. 8AM - 5PM

Closed Holidays.

Emergency Room Hours:
If you are in need of care and the health center is closed, please contact
the Wood County Hospital at 950 W. Wooster St., Bowling Green, OH 43402
419-354-8900
---
About Joy Barnes, M.D.
---
Patient Information
Accepting New Patients
No