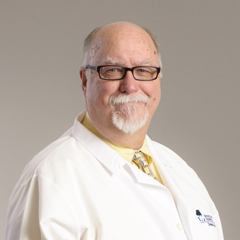 Specialities: Gynecology/Obstetrics
Accepting New Patients

Video
Women's Care of Wood County
1214 Ridgewood Drive
Bowling Green, OH 43402
Map and Directions
419-352-8427
Dr Ian Leggat is a native of Scotland and trained in Scotland and Canada before relocating to West Virginia. He has been in practice for 35 years, 20 of them in the US. He has a passion for making women's health care more accessible, offering extended hours for those patients who find it difficult to take time off work.  He provides full service Obstetrical and Gynecological care for all ages, and continues to enjoy welcoming new lives into the world. 
---
Practice Locations
Women's Care of Wood County
1214 Ridgewood Drive
Bowling Green, OH 43402
Map and Directions
419-352-8427
---
About Ian Leggat, M.D., MRCOG
Medical School
Glasgow University, Glasgow, Scotland
Residency
Queen's University, Kingston, Ontario, Canada
Clinical Interests
Dr. Leggat offers the full spectrum of obstetrics and gynecology for women of all ages. Services include well woman care, maternity care, PAP tests, Infertility care, Preventive care, Menopausal issues/HRT, Gynecological Surgery, and Infertility care.
---
Patient Information
How to Change an Appointment
call 419-352-8427
How to Request a Prescription
call 419-352-8427
Financial Policies
For questions regarding financial arrangements, call our billing office at 419-353-7069.
Accepting New Patients
Yes
Insurances Accepted
We accept most insurances.
Info
To request a physician referral, call 419-352-8427.