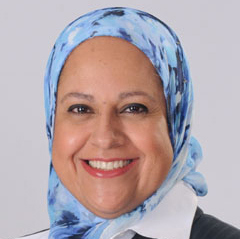 Specialities: Gynecology/Obstetrics
Accepting New Patients

Video
Women's Care of Wood County
1214 Ridgewood Drive
Bowling Green, OH 43402
Map and Directions
419-352-8427
Dr. Ahmed was born and educated in Cairo, Egypt, raised in Kuwait and has called Northwest Ohio her home since 2005. Dr. Ahmed provides healthcare services to women of all ages, she has a special interest in uro/gynecological and infertility care and care for menopausal issues.
---
Practice Locations
Women's Care of Wood County
1214 Ridgewood Drive
Bowling Green, OH 43402
Map and Directions
419-352-8427
---
About Abeer Ahmed, M.D., FACOG
Medical School
Aim Shams University Hospital Cairo, Egypt
Residency
Hurley Medical Center Flint, MI
Clinical Interests
Offers full spectrum of OB care, including high risk; Infertility; Menopausal issues; Laparoscopic gynecological surgery; 3D ultrasound imaging; Urinary incontinence treatment
Related Interests
Dr. Ahmed is fluent in Arabic and English.
Professional Memberships
Fellow in the American College of Obstetricians and Gynecologists
Certifications
Board Certified, Obstetrics & Gynecology
Website
---
Patient Information
How to Change an Appointment
call 419-352-8427
How to Request a Prescription
call 419-352-8427.
Financial Policies
call our billing office at 419-353-7069.
Accepting New Patients
Yes
Insurances Accepted
Wood County Women's Care accepts most insurances.
Info
Wood County Women's Care accepts most insurances.
To request a physician referal, call 419-352-8427.