Wood County Hospital Guild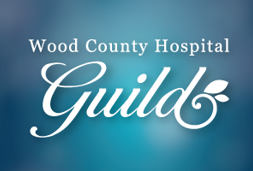 Established in 1954, the Wood County Hospital Guild exists to promote and advance the welfare of WCH, its patients and the staff.
Guild members provide their time and talent to volunteer as needed to help make visits to WCH less stressful and to assist the staff in providing services.
The Guild also helps WCH by sponsoring activities to raise funds for needed equipment, renovations and expansion of WCH facilities and patient education, health and safety.
Over the years the Guild has given gifts to WCH in excess of one million dollars. Most recently the Guild sponsored the new Women's Center with a $150,000 gift and in the summer of 2013 unveiled a new Chapel.
In the community the Guild supports the Lifeline emergency response system for people who live alone and a diabetes education program. Often the Guild provides wanted and needed equipment for specific departments.
Fore example, the emergency department has received heart monitors, EKG equipment, blood pressure monitors, a VCT and tapes, and a crash cart. The obstetrics department has benefited with the purchase of birthing beds, blood pressure monitors, a renovation of the nursery, a warming blanket and rockers.
The Guild is proud of its efforts and wants to continue by adding new members. Please consider a membership in the Guild that will allow you to give back to your community! New members are welcome any time of the year!
Join the Guild 
If you would like to become a member of the Wood County Hospital Guild, please complete the membership form which can be downloaded here.
For information about volunteering call, 419-354-8942 or contact Laurie Newlove, Director of Volunteers at newlovel@woodcountyhospital.org
The Wood County Hospital Guild 2014-2015
Director of Volunteers
Laurie Newlove - (419) 354-8942
(Laurie's hours at the hospital are 8:00 a.m. -4:00p.m. Mon. thru Fri.)
Officers
President
       Jane Schimpf - schimpfj2000@yahoo.com - (419) 352-6956
1st Vice President
        Ann Bowers Yon- abowers@bgsu.edu - (419) 352-1921
        Cathy Horger  - cdhorger@dacor.net - (419) 354-0269
2nd Vice President
       Jean Bamborowski - tjski@dacor.net - (419) 352-1481
       Jean Daly - jeandaly@woh.rr.com - (419) 352-5404
Recording Secretary
       Denise Robins - denisehoffmanrobins@yahoo.com - (419) 352-0788
Corresponding Secretary
       Jan Finn - jfinn@falcon.bgsu.edu - (419) 352-1481
Treasurer
       Deb Smith - debsmith1956@gmail.com - (419) 308-7338
Immediate Past President
       Scotty Huntington - shuntington@woh.rr.com - (419) 353-6696
Committees
Arts n Action
       Marie Rogers- (419) 352-0812
Spring Planting Sale
       Julie Thayer - (419) 354-8006
Gift Shop
        Linda Spitler - (567) 343-3496
Health Care Loan Committee
       Jane Whitmer - (419) 352-4239
Legislation
       Jean Lanning  - (419) 352-0021
Lifeline
       Laurie Newlove - (419) 354-8942
Membership
      Marcia Buckenmyer - (419) 352-8209
Newsletter
      Naomi Lee - (419) 352-8874
Newsletter Mailing
      Lyn Long - (419) 352-8019
Parliamentarian
      Lolita Guthrie - (419) 352-4940
Service Cart
     Nancy Loomis - (419) 354-1635
Area Representatives
      Bowling Green
               First Ward: Jean Lanning - (419) 352-0021
               Second Ward: Doris Hille - (419) 352-0140
               Third Ward: Mary Frobose - (419) 352-9392
               Rural BG: Ann Yon - (419) 352-1921
     Custar
                Dorothy Nutter - (419) 669-3582
                Thelma Nutter - (419) 669-3602
     Pemberville
               Shirley Rollo-(419)287-4858
     Perrysburg
                Diana Williams-(419)250-2210
     Portage
               Deb Apple  - (419) 686-1765