Infant Massage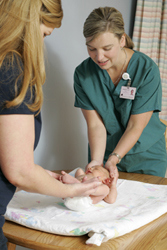 Infant massage is a relaxing way for parents to form a closer bond with their baby. A soothing touch can calm an irritable infant and provide a sense of well-being. Parents can take this class before delivery or up until one year after their child's birth.
The Benefits of Infant Massage are:
Relief from discomfort of teething, congestion, emotional stress, gas and colic
Bonding with parent and baby/child to foster parent/infant bonding
Skin stimulation –all of the physiological systems are stimulated by massage.
Speeds myelination of the brain and nervous system
Increase oxygen and nutrient flow to cells
Deepens respiration
improves muscle tone and circulation
Helps to encourage midline orientation (studies have found this helps with learning to read)
Improves sensory awareness
Improved sleep
Improved digestion
Increases parents' ability to help relax the child/infant
Helpful to ease stress of a working parent who must be separated from the child during the day.
The cost of the class is $25.00 per session and includes an instruction book. A certified massage instructor will teach this course on an individualized basis.
Appointments for this individually scheduled class can be made by calling 419-373-7665.
Please contact Jennifer Tansel, RN if you have any questions at tanselj@woodcountyhospital.org or by phone at 419-373-7665.