Fertility Services
If you have struggled to become pregnant, our fertility specialist can help you realize your parenting dreams. We offer a broad range of medical and surgical options to treat a host of infertility issues.
Call 855-812-8845 to schedule an appointment with our infertility specialist. 
Medical treatments:
Polycystic Ovary Syndrome
Hirsutism
Ovulatory disorders
Amenorrhea
Hyperprolactinemia
Hypothyroidism


Minimally invasive surgeries:
Recurrent pregnancy loss
Endometriosis
Fibroid tumor
Blocked fallopian tubes
Hysteroscopy


Assisted reproductive technology:
In-vitro fertilization (IVF)
Gamete intra-fallopian transfer
Zygote intra-fallopian transfer
Tubal embryo transfer
Intracytoplasmic sperm injection
Assisted hatching using laser beam
Percutaneous epididymal sperm aspiration
Cryopreservation of embryos
Cryopreservation of oocytes
Pre-implantation genetic screening & diagnosis
Natural cycle IVF
Low stimulation protocol IVF
Intra-uterine insemination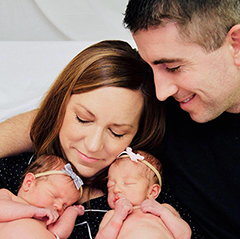 I feel very fortunate that we found Dr. Abuzeid and took a second chance at fertility treatment. We had disappointing results with our first round of IVF at a different fertility center but  found success with our first round of IVF with Dr. Abuzeid.
Dr. Abuzeid is very knowledgeable, detail oriented and kind hearted. My husband and I felt he took a genuine interest in us and our journey. He truly cares about his patients and does what he can to help them realize their dreams of becoming parents.
If it weren't for Dr. Abuzeid and his wonderful team of nurses and specialists we would not have our own beautiful twin daughters today. Megan Rose and Lauren Elise were born two weeks ago today and we cannot put into words how happy we are!" - Jaime Bowman